Contact
Contact Cherri for a consultation on QuickBooks by calling
(512) 257-1121 or via email.

Serving the Central Texas area.


Phone
(512) 257-1121
Email
cherri@rapp-lcc.com
Mailing Address
1108 Lavaca St.
Suite 110-401
Austin, TX 78701
Chad Simpson - Intuit Retail Sales and Cherri at QuickBooks Conference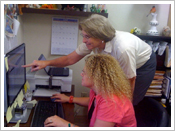 "Cherri is a very delightful person also,  easy to work with and very patient. She never ceases to amaze me with her talents and skills. We learn something every time she comes to my office, and look forward to working with her for many more years."
Margie Slack, Aero Designed Systems